From Lent Term 2023 the University will begin a new quality assurance process, Education Monitoring and Review (EMR). 
Forms and Guidance
Departments participating in EMR can access the submission template forms and guidance documents (Raven protected), including submission timelines.
The link above also contains a recording of the Departmental Briefing session held on 14 Dec 2022.
---
What is EMR?
Education Monitoring and Review (EMR) is a quality assurance process which aims to monitor and review the University's courses.  It replaces the previous six-yearly Learning and Teaching Review (LTR) process, and the Annual Programme Review (APR) process.  It applies to any Department, Faculty or Institution offering award-bearing courses, including all Triposes, all Masters' and doctoral courses, all courses listed as "non-member awards" in Statutes and Ordinances, and the Language Centre CULP awards. 
The purpose of EMR is to provide evidence-based, regular review of courses for quality monitoring and enhancement.   
There are 5 stages to EMR: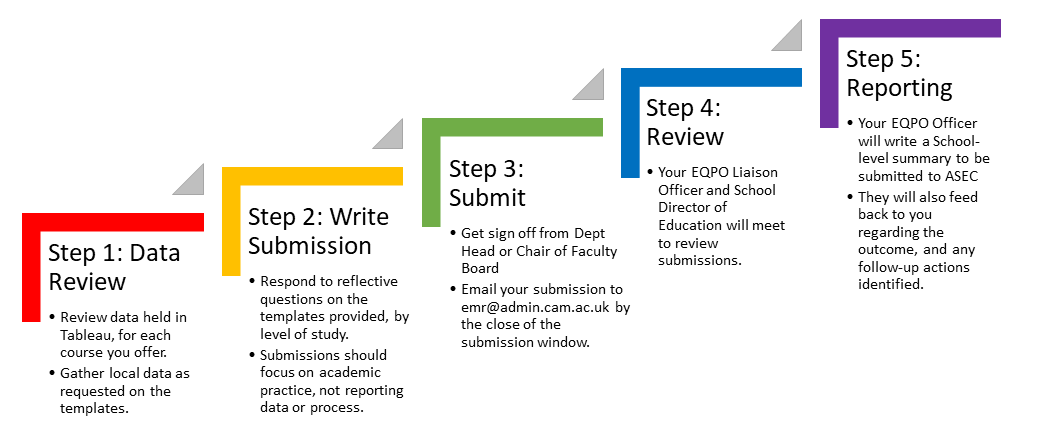 More information is available in the EMR Overview document.
Principles and rationale 
Education Monitoring and Review will enable the University to evidence the high quality of its education and to demonstrate continual enhancement of academic standards. It will also enable the University to systematically share good practice between and across cognate disciplines via Schools, and to take action to support areas of weakness. 
Education Monitoring and Review has been designed to:  
be light-touch, risk-based and data-driven, flexible and adaptable to the requirements of different disciplines;   
help in identifying and solving thematic issues within (and potentially across) faculties and departments across the University;     
be supportive and provide practical help and advice to Departments where it becomes clear that this is needed;   
reduce the departmental workload (comparative to previous processes), while still providing a robust framework for monitoring and review;   
align with School planning processes, to enable greater integration of curriculum developments with School priorities.  
The process was developed by the Academic Standards and Enhancement Committee (ASEC), in collaboration with all six Schools and the Institute of Continuing Education (ICE).  A pilot took place in the Lent Term 2022.   
At its meeting of 30 June 2022, the General Board's Education Committee approved EMR to run across the institution.   
Process
EMR is managed by the Education Quality and Policy Office and will run to flexible timelines.  These will be identified by each School and ICE for the Departments under their remit during Michaelmas Term 2022.  They will choose one of two models, along with a preferred timeline for submissions to be made and reviewed:
Standard model: in this model, submissions will be made every two years, reviewing all provision (undergraduate, postgraduate taught, and postgraduate research) jointly.  Schools wishing to implement the Standard model annually may do so, but this is not required.   

Offset model: in this model, submissions may be alternated so that all undergraduate provision is reviewed in one year and all postgraduate provision is reviewed the following year.  
Each course will therefore undergo review at minimum every two years.  New courses must undergo a form of EMR at the conclusion of the first cohort, irrespective of any agreed timelines based on the models above.  
More details about EMR are available on the Forms and Guidance section of this website, including training material and template submission forms.  For more information and support, please email emr@admin.cam.ac.uk.